ABOUT HKLO
HKLO (Harshit Khare Law Offices) is an ambition driven boutique law firm, primarily focusing on the following interlinked practice areas namely: Restructuring & Insolvency, Banking & Finance, Real Estate and Projects & Infrastructure. The firm also has alliances with many seasoned law professionals having expertise in Private Equity, Mergers & Acquisitions, General Corporate, Tax Advisory and Dispute Resolution practice Areas, to cater to the requirements of our clients under a unified structure, and to compliment the services being offered by the firm.
HKLO has its principal office in Noida (Delhi NCR). The Firm also has alliances with dual qualified attorneys based out of the USA and any issues in US jurisdiction are appropriately dealt with by the firm's US based dual qualified Solicitors as per clients' requirements.
HKLO has the expertise to cater to both disputes and transactional advisory matters and it provides consultancy as well as representation before various courts and tribunals in litigation services in areas of Banking & Finance, Insolvency & Bankruptcy etc.
OUR AMBITION STATEMENT
Our ambition is to become a recognized and respectable name in the legal industry for providing efficient and value-added services, at par with top tier law firms of the country, having emphasis on results, outcomes and outputs for our clients, while also being cost effective.
OUR VALUE PROPOSITION
Relationship driven approach towards our clients as opposed to business-driven approach.
Firm's output-oriented mindset to deliver results and outcomes for our clients.
Partner having sectoral knowledge and command over subject matter to provide effective business solutions to our clients.
Experience of firm consisting of partner having 9 plus years of experience in representing banks, financial institutions, public sector undertakings, resolution professionals, insolvency professional entities, resolution applicants, committee of creditors, home buyers, operational creditors, corporate houses and fund houses, across the globe.
Partner of the firm having experience of handling complex transactions and legal matters during his tenure at some of the finest law firms of the country such as Khaitan & Co LLP, Link Legal etc.
ILLUSTRATIVE CLIENT LIST
Firm's partner has served to various clients e.g.:
ACME Group
Alvarez & Marsal
Antanium Holdings Pte. Ltd. Axis Bank Limited
BDO Restructuring Advisory LLP
Brookfield Asset Management
DMI Finance Limited
Duff & Phelps India
Edelweiss Group
Fire Fulcrum (real estate & construction industry solutions company)
First Solar Group
GAIL
HDFC Bank Limited
Invent Assets Securitisation and Reconstruction Private Limited
IDBI Bank Limited
Indusind Bank Limited
Jindal Saw Limited
Jindal Severfield Structures Limited
Mytrah India Energy Limited
National Skill Development Corporation » NBCC India Limited
PNB International Limited
Power Finance Corporation Limited
Pricewaterhousecoopers Professional Services LLP (PwC)
Punjab National Bank
RBSA Restructuring Advisors LLP
Resolution Professional of Macksoft Tech Private Limited » Resolution Professional of Educomp Solutions Limited
Resolution Professional of EMCO Limited
Resolution Professional of Ind Barath Power (Madras) Limited
Resolution Professional of ACIL Limited » Resolution Professional of Prius Commercial Projects Private Limited
Resolution Professional of Pawan Impex Private Limited
Resolution Professional of Sharan Hospitality Private Limited
Resolution Professional of Payne Realtors Private Limited
Resolution Professional of SVIIT Software Private Limited
Resolution Professional of Gitanjali of Nakshatra World Limited
Resolution Professional of Gitanjali Gems Limited
Resolution Professional of Nakshatra Brands Limited
Rural Electrification Corporation Limited » Sembcorp India
State Bank of India
Sterlite Power Limited
Tata Capital Financial Services Limited » Tata Cleantech Capital Limited» Vikram Solar Group
PRACTICE AREAS
RESTRUCTURING & INSOLVENCY
Our Restructuring & Insolvency practice revolves around the stakeholders involved in this space such as banks, financial institutions, insolvency professionals, financial creditors, operational creditors, home buyers, process advisors, resolution applicants and investors. Our Restructuring & Insolvency practice broadly covers the following :
Litigation support and advisory to Financial Creditors, Operational Creditors and Corporate Debtors.
Litigation support and process advisory to the Resolution Professional.
Assistance to various classes of creditors in drafting and filing of the claim form.
Litigation support and advisory to the Committee of Creditors.
Litigation support and assistance to the Resolution Applicants in preparing the expression of interest, conducting due diligence, finalising the acquisition structure and bid documents.
Drafting of Resolution Plan.
Negotiations with committee of creditors.
Restructuring including arrangement with creditors and members.
Process advisory to the Liquidator.
Litigation support and advisory on distress/restructuring cases including corporate debt restructuring on behalf of lenders and borrowers.
Representation of Stakeholders before NCLT, NCLAT, Supreme Court and IBBI etc.
Regulatory advisory to stakeholders in relation to RBI's restructuring circulars and master directions.
PROJECTS & INFRASTRUCTURE
Our Projects & Infrastructure practice generally covers legal services for highways & roads, railways & metro trains, sea-ports, airports, power & electricity, mining & metals and oil & gas. Our Projects & Infrastructure practice broadly covers the following:
Drafting and vetting of bid documents, RFP, RFQ etc.
Bid Process Management (Legal).
Advising and assisting developers in the bidding process.
Conducting vendor due diligence and purchaser due diligence.
Assisting the regulator/developer in negotiations on various stages of documentation.
Drafting, vetting and advising on Concession Agreements, Off-take Agreements, Joint Development Agreements, Power Purchase Agreement, EPC Contracts, Production Sharing Contracts, etc.
Legal assistance in setting up of Joint Ventures in India.
Advising on diverse laws governing infrastructure facilities in India including issues related to land acquisition.
BANKING & FINANCE
We at HKLO seek to help banks & financial institutions and corporate houses (borrowers) in structuring the financing transactions, drafting and reviewing the financing and security documents and providing the legal opinion, by offering an innovative, solutions-based, business-oriented approach, combined with an eye for detail. Our Banking & Finance practice broadly covers the following :
Project Finance (term loan and working capital funding). Syndicated loans.
Structured Finance & Securitization.
Debt Restructuring and Re-Financing.
Assignment / Down-selling of Debt. Inter-corporate lending.
Mortgage and asset-based lending. Lease Rental Discounting Loans. Real Estate Financing.
Debt Capital Markets (listed and unlisted).
FPI Investment in Debt Instruments.
External Commercial Borrowing.
Advisory to borrowers in reviewing the financing and security documents, creation and perfection of security etc. Assistance to the lenders and borrowers in relation to the enforcement of security interest including by way of process under SARFAESI.
Representation of Stakeholders before RBI, DRT and DRAT etc. Regulatory advisory in relation to RBI's circular and master directions. Assisting the lenders and the borrowers in one time settlement process.
REAL ESTATE
Our real estate practice focuses on all aspects of property and real estate laws. The traditional form as well as modern commercial form of real estate transactions such as conducting title due diligence for buying, selling, leasing and development of the immovable property and investment in real estate sector through private equity investments, foreign investments, debt funding, REIT etc. Our Real Estate practice broadly covers the following:
Real Estate Projects like townships, SEZ, Technology Parks, Hotels & Tourism Projects.
Regulatory laws including those relating to licences and approvals.
Structuring of transaction stamp duty.
Change of land use.
Regulations governing acquisitions and sale of property.
Property tax and other taxes on real estate.
Construction Contract, Joint Development Contract, Project Management Consultancy Agreement, etc.
Grant/ Assignment of leasing / licensing of commercial and residential properties.
Due diligence and preparation of Title Search Reports.
Documentation pertaining to leasing, sale, mutation of property etc.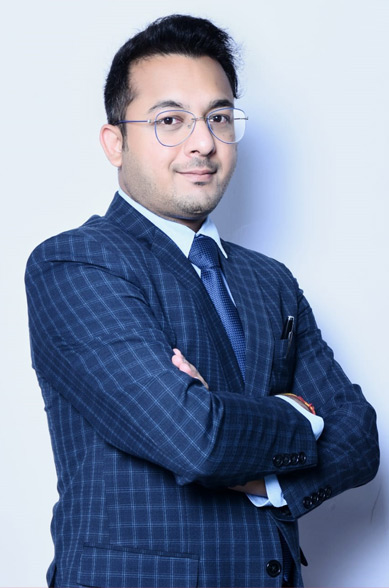 Managing Partner
B.A. LL. B. (Hons.) with Specialisation in Energy Laws, University of Petroleum & Energy Studies
Harshit is the Managing Partner at HKLO. During his professional career as an advocate, he has been associated with Khaitan & Co LLP and Link Legal India Law Services.
Over the period of last 9 years, he has extensively advised the clients in the sphere of insolvency resolution process in various capacities such as counsel to resolution professionals, representative of financial creditors and operational creditors and advisor to resolution applicants/investors. He has also worked for leading banks and financial institutions and advised clients on syndication, debt restructuring, Project finance, securitisation, and structured finance matters. In addition to that, he has been actively advising many foreign based fund houses and asset management companies in relation to their acquisition of stressed assets in India.
Practice:
Restructuring & Insolvency, Banking & Finance, Projects & Infrastructure, Real Estate
Professional Affiliation:
Bar Council of Delhi
T: +91 8743828136
E: harshit.khare@hklo.in