This GC Spotlight is a special one as we feature one of our own Annalise Haigh, a KorumLegal Alumni! We loved catching up with her and talking about the great stuff she's been doing as the General Counsel at Neat (a Rapyd company), a Hong Kong founded payments company.
You're doing awesome stuff – you go girl ✨
1. Hi Annalise, tell us a little about yourself outside of work. 
Living in Hong Kong, life outside of work is very social. There is always something to do for any mood. I love to visit great restaurants and cafes, go hiking and over the last few years I've been doing a lot of wakesurfing and mahjong. Pre-pandemic world, I did a lot of winter and summer travel.
2. What does your role at Neat entail? What skills are required to be a modern GC?
Like most general counsel, my role needs me to be a jack of all trades. Neat is a regulated entity, so the role needs strong regulatory compliance knowledge and commercial sense to guide the business and support it to reach its north star and beyond. I work on commercial contracts, new product development, IP, disputes and we just recently completed an acquisition (where Neat is now part of the Rapyd group). I also sit in the management team with all the other heads of the business to develop the wider strategy of Neat.
The main skills required of a modern GC is to have business acumen while wearing a legal hat – it's a must to really understand and support the needs of the business. This is not new, but still far too often I see legal blocking progress due to old school legal thinking and limited commercial thinking around the practical realities of the decisions.
3. What have been your biggest challenges during the pandemic?
From a work perspective the pandemic hasn't really impacted the team. We already had flexible working practices in place and have always used remote working technologies such as Slack, Monday.com, Confluence, G-suite. The main impact has been on mental health and motivation in general – 2+ years of lockdowns has definitely taken its toll on everyone. Keeping everyone mentally healthy has been the main focus. Everyone needs a good holiday with no internet access!
4. What do you think about the use of LegalTech, data analytics and process optimisation to improve your legal department's value (e.g., data relating to contracts, risk, tracking workflows, performance metrics, costs)?
I'm a big fan. I think particularly as the role of legal is now more business focussed, data metrics are important. All the other departments in a business use data and tech tools and legal shouldn't be any different. The challenge I find is where it's a small legal team (like Neat), justifying the spend on a legal focussed tool to the business is difficult. At the moment we optimise non-legal specific tools such G-suite, monday.com and Confluence – which works well for now.
5. What developments or trends do you expect to see in the legal services industry in the next 5 years?
I'd like to think that the standardisation of basic contracts will continue. The OneNDA initiative is a great example of this and hopefully is just getting the ball rolling. In addition I think the makeup of the legal department will continue to change with a far more spread out work force, and perhaps this is where the technology will focus as well. Remote teams management tech with a legal focus. I think however this tech needs to be able to sync with the wider business' tech, not be stand alone.
6. Where do you see NewLaw/ALSPs fitting into the matrix of your legal department?
I see New Law and ALSPs as a key pillar to my legal department.  I've used ALSPs in a variety of ways over the last few years – remote consultant with specialised knowledge to a retainer that enables me to tap into a network of consultants and optimise as I like.  Being a global payments company, being able to use payment experts with in-house experience from all over the world has been completely invaluable to the business – I cannot match this with a law firm or with an internal resource – for value or knowledge.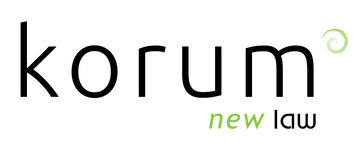 KorumLegal is a boutique legal consultancy committed to providing value innovation in legal service delivery. The legal services industry is continuing to change with 'NewLaw'​ – and clients are seeking more innovative and cost-effective solutions without compromise on experience and quality.