1. Hi Andrew, Tell us a little about your role and what excites you outside of work.
I joined the company in a challenging time during the pandemic when all planes were grounded. I had to learn fast in the role of Head of Legal for three busy AirAsia entities (I have since moved within the group to Capital A). It has been satisfying seeing the company get through the most difficult period, and in the midst of that adversity, it was able to pivot and build a more diversified and stronger business, such as through the development of Teleport (the logistics company), ADE (the engineering company), and the AirAsia SuperApp, with offerings such as ride sharing and food delivery.
Adversity can create opportunity.
I have been very busy working on a number of complex fund raising exercises and M&A transactions.
Outside of work I enjoy time with family, attempting to learn Bahasa Malaysia, playing basketball and chipping away at my Scuba Dive Master training.
2. What do you think about the use of LegalTech, data analytics and process optimisation to improve your legal department's value (e.g. data relating to contracts, risk, tracking workflows, performance metrics, costs)?
The adoption of new technology and data analytics are very key to the company's business.
AirAsia has recently implemented a modern contract management system which has a number of benefits, such as helping to manage workflows, automating and documenting contract approval processes (enhancing accountability), undertaking contract management, creating a reliable document repository, and providing meaningful data analytic capabilities (for example, via risk profiling, we can keep track of any contracts with problematic clauses that need closer supervision or risk mitigation measures).
I have worked with organisations with and without contract management systems and the difference is huge.
The next steps will involve making full use of the data and tools available, which will in turn drive better efficiency and accountability (by both lawyers and decision makers).
For international companies, especially those with heavy procurement practices, the adoption of contract automation software with AI capability will be beneficial. I see the adoption of such software as being key to:
improving the overall quality of legal documentation, including consistency and speed of turnaround,
curbing rising legal costs that come with growth, and
generally allowing bandwidth for the legal team to be able to focus their energy on more value added (and more enjoyable) work.
I'm looking forward to seeing further advancements here. The current offerings are still on the pricey side and present some challenges when it comes to dealing with multiple languages and integrating with pre-existing contract management systems.
3. Your favourite tune? And why?
Favourite tune is tough… I enjoy listening to the classics with my three year old daughter as I believe that a broad musical appreciation is important. I'm currently enjoying the song 'Get Back' by the Beatles, inspired by watching the Peter Jackson directed documentary of the same name. There are some incredible scenes in the series where it feels like you are in the room with these musical geniuses literally jamming out iconic songs for the first time.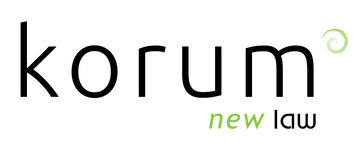 KorumLegal is a boutique legal consultancy committed to providing value innovation in legal service delivery. The legal services industry is continuing to change with 'NewLaw'​ – and clients are seeking more innovative and cost-effective solutions without compromise on experience and quality.