This month, we speak to the fantastic Lorraine Lee. She is the General Counsel and the Chief Privacy Officer, Asia & Oceania, at International SOS – a health and security services firm. A General Counsel's responsibilities are broader than they used to be. Let's hear more on this from Modern GC, Lorraine Lee herself!
1. Tell us a little about yourself – what does it mean to you to be a modern GC?
I'm a dual Singapore and UK-qualified lawyer with 27 years' track record, starting my career in private practice at Wong Partnership and Rajah & Tann in real estate and corporate/ capital markets, before moving into an in-house counsel position at Keppel Corporation, Hilton Hotels Corporation and now, at International SOS, for the past 12 years.
As GC, I lead a global team of 10 lawyers, supporting a dynamic business that helps employers take care of the medical and security needs of their workforce. I'm also the Co-Chief Privacy Officer for the organisation, covering Asia & Oceania.
Being a modern GC is about range and versatility. We live in a VUCA (volatility, uncertainty, complexity, and ambiguity) world. For me, it's about providing innovative, pragmatic solutions to my business stakeholders, whatever the situation might be. It's also about leading with empathy and being able to say "We have no blueprint for what we are facing currently. I don't have all the answers, but this is what I think will work for us. What do you think?"
2. What are your key priorities for the year ahead?
I am fortunate to work in an organisation that advises other organisations on how to return to work safely, so I don't have to figure out the health and safety aspect of my team.
My first priority is around mental resilience for team members, my family and myself. People are our greatest asset. If our team members, our families or we ourselves, as leaders, are not coping, this will impact on the support we give to our business stakeholders and the business.
The challenges of the last few years have shown us the where the weak links are in our "system", and presented an opportunity to re-evaluate how we run the Legal department. Are we over-reliant on one person? Why did we have to keep running back to the office to "print documents for signature" – are we not yet fully digital?
3. What do you think about the use of LegalTech, data analytics and process optimisation to improve your legal department's value (e.g., data relating to contracts, risk, tracking workflows, performance metrics, costs)?
Technology is the way forward for everything, including Legal. When our global sales team committed to a global CRM system in 2011, it became clear that Legal cannot be the "black hole" into which contracts disappeared. We had to be part of the sales end-to-end process, to be Smarter. Faster. Better.
I led the implementation of our first contract lifecycle management tool in 2012, and we are onto our second tool 9 years later. As an early adopter of LegalTech, I would say it's the only scalable way to manage contractual risks, understand where the bottlenecks are, and the data will tell us if solutions are working and whether we are becoming "Smarter. Faster. Better." as an organisation.
Only when it is measurable, can we demonstrate the value of the Legal Department as an enabler to the business.
4. What developments or trends do you expect to see in the legal services industry in the next 5 years?
Data privacy is an area that cannot be ignored. As Co-Chief Privacy Officer of International SOS and one of the founding committee members of AsiaDPO, an active (and vocal) community of data protection officers (DPOs) in Asia, I am naturally biased towards data privacy, as an important trend for the next 5 years and beyond. As GC, data privacy is part of every client discussion, and an area that I encourage my team to be conversant in, to be fully able to bring negotiations to closure.
The other development trend is in LegalTech, which goes beyond having a contract lifecycle management tool (but it's a good start). At present, we have seen technology able to review repetitive agreements, such as NDAs and commercial loan agreements, and it stops there. There comes a point where techies are unable to understand the nuances of complex negotiations and lawyers are unable to tell whether what the techies have programmed will achieve the same results. It's a very exciting area to watch in the next 5 years.
5. Where do you see NewLaw/ALSPs fitting into the matrix of your legal department?
NewLaw and alternative legal service providers (ALSP) play an increasingly important role. We have been fortunate to have a couple of consultants, whom we can call upon during peak periods. They know our business well and can hit the ground running. A recent senior position was also hired through an ALSP, starting as a contract role and transitioning into a permanent role. This way, both sides get a chance to try out the role or company. I think it's fantastic.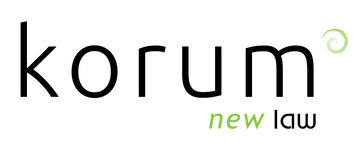 KorumLegal is a boutique legal consultancy committed to providing value innovation in legal service delivery. The legal services industry is continuing to change with 'NewLaw'​ – and clients are seeking more innovative and cost-effective solutions without compromise on experience and quality