This month we have Marco Schikore under the spotlight. For most of his career, Marco has been working as a passionate inhouse counsel for Siemens, always looking for smart solutions rather than just legal issues.
Siemens is a large multi-national group of companies that helps customers in many sectors design their products digitally, automate their factories, make their buildings more energy efficient, enable convenient mass transportation and better diagnose and treat patients.
Marco has been working as both an individual contributor and a team leader in several countries (Germany, China, Saudi Arabia and the UAE). His experience spans across various practice areas such as corporate and commercial law, intellectual property and information technology, dispute resolution, regulatory and compliance. During the evolution of his career from junior to senior counsel and later on to General Counsel, he successfully negotiated a broad variety of commercial transactions. Marco also implemented reorganisations, internal efficiency programs, knowledge management projects and legal tech adoption. Hiring the right talents, developing them further, and fostering strong team cultures in diverse environments have been at the core of his responsibilities over the last decade.
Marco studied law in Germany. During his post-graduate legal training, he worked, amongst others, for an international law firm in Russia. He then did a multi-disciplinary master's degree (LL.M) in international law and politics in New Zealand before he decided to also take some additional post-graduate business courses in China. Marco is admitted to the bar in Germany.
1. Hi Marco, can you tell us a little about your role and journey into law? What excites you outside of work? 
My current roles are Regional Legal Manager for our Smart Infrastructure business and Regional Antitrust Expert in the Middle East at Siemens. Previously, I was Country General Counsel in Saudi Arabia for 4 years. Siemens is a large multinational technology company with a rich history of more than 175 years, the last 16 of which I was lucky enough to be given the chance of accompanying the company on its constant transformation journey. My roles reflected that transformation in a way. I switched several times business and legal practice areas, leadership roles, and countries (Germany, China, Saudi Arabia, UAE). My goal was always that, with each step, I wanted to keep learning and adding something interesting to my portfolio on my own growth journey. This has worked out quite nicely so far.
My preference for practicing law in the business context started during my studies in Germany when opting for competition law and IP as focus electives. The appetite for the international component on my career path got triggered the most by the 'Antarctic Legal Studies' course I took during my LL.M. program in New Zealand. The legal rules, history, and issues in Antarctica are so multi-faceted, insightful and, yet, mostly unknown to the larger legal community. It's fascinating.
What excites me the most outside of work is my family and those people that became and stayed good friends during the many changes and moves in the last two decades. It's a true gift for which I am ever so grateful! Experiencing places that I haven't been to before and discovering their people, sights, history, cultures, food, and nature clearly thrills me.
2. In your role, what are some of the challenges that keep you up at night? How are you addressing them? 
Apart from the usual firefighting, the fundamental challenge I see for years to come in the inhouse environment is all about managing complexity. To me, the crucial question is: How can we reduce complexity as much as possible to keep things feasible while creating the most value for our business?
Regulations that seek to address political, societal, environmental, and technological change mushroom at an ever-increasing pace all over the world. We will see more and more regulatory interdependencies or, worse, incompatibilities. Transactional complexity along supply chains and within business ecosystems keeps also increasing.
What can you actually do? First, get the big picture. Stringent prioritisation (keyword: Eisenhower matrix) comes next and is the hardest part. Then, get the sourcing right between inhouse (and among different roles within inhouse), external counsel, ALSPs, and legal tech. Standardise, streamline, and automate your workflows and work product whenever beneficial. Obtain, manage, recycle and share legal domain know-how effectively. Finally, foster a 'translation culture' in which the legal team turns legal expertise into pragmatic business guidance. All of this is part of an ongoing, iterative effort. There is no single magic bullet.
3. What do you think about the use of LegalTech, data analytics and process optimisation to improve your legal department's value? 
It's all part of the essential toolbox for an effective and efficient in- house function. It's not a question of 'if', it's just a question of 'how much and what for'. The company will benefit from the productivity gains and additional insights. The individuals will stay competitive in the market. They will also feel more in control of their own work environment while learning to navigate relevant tech and ops landscape. It will open a variety of new career opportunities. In my view, the key messages should be: Legal team members need to become and stay the best users of both legal tech and general office applications. It pays off so much. Legal departments will have the highest probability of future success if they manage to adopt tools that can positively answer the user's rather than the management's question of 'What's in it for me?' The adoption of any new tool should feel like a reward rather than a punishment for the user. The most value will flow from there.
4. What trends do you expect to see in the legal services industry in the next 5 years? 
We are living in interesting times. The transformation of the legal services industry is profound. Shape or get shaped. In 5 years from now, the smartest ALSPs may play a much bigger role as legal service aggregators and integrators – especially if not enough law firms respond to the growing client demand in this respect. The outcome of the race is open.
I also expect a lot more integrated, multi-modal AI to become available as daily work companions that can tap more easily into the legal department's own domain know-how and combine it with a multitude of paid third-party providers' and public legal knowledge sources. This may then result in an almost instantly available, extremely tailored support for a variety of activities such as contract negotiation, claims management, dispute resolution, regulatory feasibility analysis, etc.
Transparency, security, and reliability aspects of AI will need to be resolved along the way before we should even think about replacing inhouse lawyers. Organizations who ignore this will feel the pain.
The most positive impact from AI-enabled legal tech I expect to happen is where no lawyer is present today, either because lawyers are too expensive or because clients are not aware that legal support may help them. This expansion of 'access to justice' for consumers will be a really good thing.
5. Where do you see NewLaw/ALSP fitting in the matrix of your legal department? 
The general potential is substantial. With the right ALSP, one could lift the value creation level in many respects: flexible staffing, interim management support, managed legal services, internal transformation projects, legal process engineering, legal project management, legal design, legal tech consultancy, etc. The breadth of offerings in the market is particularly interesting for legal departments that struggle to keep pace with the change happening around them. In my perception, we are in the fortunate position that we can cover a lot of these capabilities inhouse at Siemens due to the maturity level of our global legal function. Nobody is perfect; and nobody can do it all alone, though. That's why, in my view, it is key to remain curious, keep scouting the market for new ideas, and be open to testing fresh approaches on the quest of getting better every day.
6.  Your favourite tune? And why? 
I don't just have one favorite but a quite a special one is 'Grendel' by Marillion. It keeps taking me on such an emotional journey. The whole 18 minutes, every time. It is such a stunning blend of varied but connected tunes, powerful instrumentation and vocals, and drastic lyrics embedded in the Grendel metaphor of the Beowulf saga. To me, it is such a captivating reminder that we are all accountable for what we do (or choose not to do) – as individuals, and as humankind. My reading of it is that it is up to us to do the right things and to do things right. I like to see the light in the dark.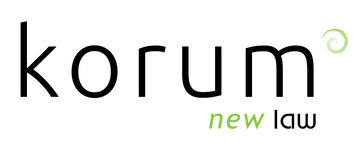 KorumLegal is a boutique legal consultancy committed to providing value innovation in legal service delivery. The legal services industry is continuing to change with 'NewLaw'​ – and clients are seeking more innovative and cost-effective solutions without compromise on experience and quality