We're under the spotlight with Penny Koo, General Counsel and Company Secretary at AIA Singapore. As part of the AIA Singapore management team, Penny supports the company's continued business growth and transformational strategies with her legal expertise and strong track record, delivering success across the Group. Let's find out more about the passionate and diligent Penny in this Q&A!
1. Hi Penny, can you tell us a little about your current role and journey into law? What excites you outside of work
My parents tell me that, from an early age, I'd demonstrated an aptitude for literature, language and public speaking. I also had an opinion on just about everything, and was not shy about vocalising it! Given that, my 18-year-old self thought that pursuing legal studies was a natural choice.
Like many general counsels, I started my legal career in private practice. A key turning point in my career was when I moved to Hong Kong in 2012 for my first in-house role with AIA Group. We were one of the first insurers in Asia to venture into the health and wellness space – the start of a strategic shift into helping our customers not only protect well, but live well.
I have always been deeply interested in health and wellness, in part because I was quite sickly at a young age. Not being strong or fit enough to run around with other 'normal' children spurred me to learn more about physical fitness and how I could become healthy, strong and fit. This is also why I was drawn to my first in-house role with AIA Group – its mission statement of helping customers live healthier, longer and better lives resonates deeply with my own passion.
2. As a GC at a leading insurance company, what are some of the challenges that keep you up at night? How are you addressing them?
2 things I constantly ruminate over – Time, and People.
On Time – regardless of industry, seniority or specialisation – everyone only has the same 24 hours in a day. We have to ask ourselves: "What is the best use of our time?" Critical to have clarity on, from different perspectives – whether for organisational excellence, or personal development.
On People – in a post-COVID, race to digitalise everything, world, I think it is critical we remember what it means to be human, and to ensure we continue to embrace humanity. At work, I firmly believe that our people are our competitive edge. Technology, increasingly, is becoming an important enabler. Still, it is human vision, intelligence and emotion that drives what is built and how we optimise how humans work, and interact with each other. Likewise, at home, it is important to set aside 'digital-free' time, and focus on human connection. It is important to me then that I dedicate time to understand the psychology behind motivation, collaboration, growth and attachment, and how I can be most impactful as a leader, mentor, partner, daughter, sister, etc.
3. What do you think about the use of LegalTech, data analytics and process optimisation to improve your legal department's value?
I am a strong proponent of legal innovation and optimising our in-house legal service delivery model. I would, however, distinguish between innovation and LegalTech – the latter is an enabler of the former, but not necessarily the magic bullet to the usual in-house pain points.
For legal departments at early stages of their innovation journey – "process optimisation" does not have to be complicated nor costly. Think big, but start small.
First consider if processes can be simplified, or removed altogether. Large conglomerates, in particular, have inherited various governance requirements and processes that may once have been necessary but are no longer relevant or fit-for-purpose. Business models evolve, as does enterprise risk tolerances. It is incumbent upon the gatekeepers to regularly revisit their review and approval processes – do a risk assessment: what risk was that control or processes trying to mitigate against? Does that risk still exist, or is it still outside the enterprise risk appetite? If yes, then is there a simpler way to mitigate against that risk? If no, then should that control or process be removed?
Legal innovation isn't just about technology, but optimising the way lawyers operate.
4. What trends do you expect to see in the legal services industry in the next 5 years?
The main overarching theme, for both external and in-house counsel, will be – moving up the chain of value-add, and optimisation of resources. With the plethora of tools available to in-house counsel – from contract life cycle management platforms to self-help/AI functionalities for business users – we need sharp focus on how we can better value-add for the business and internal clients, while moving low-risk and low-impact, repeatable and predictable tasks to be handled by technology.
Same goes for external law firms. Traditionally, in-house counsels have gone external for either specialist competence, or capacity. As in-house teams optimise their resourcing and knowhow databases, I suspect the demand on strong value-add by external counsels will consequently increase. We will see less of in-house teams going external to plug capacity gaps, but more holistic solutioning and legal strategizing. This means external counsels need to build strong business familiarity with specific clients, and present big picture risk solutions, beyond technical advice.
5. Where do you see NewLaw/ALSP fitting in the matrix of your legal department?I like that there is now one more option for heads of legal to consider when optimising resources for the most efficient and robust legal solutioning for the business. Personally, this is not yet something I use much, but it ultimately depends on the general counsel's own assessment on what the business needs and the best way(s) to fulfil them.
6. Your favourite tune? And why?
This is the toughest question on the list!
Anything by Dr Dre, Ja Rule and DMX will get my energy levels up. When I need quiet focus time, Yiruma's piano classics are my go-to.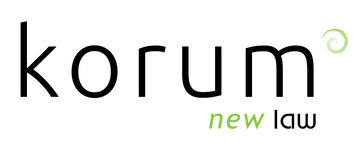 KorumLegal is a boutique legal consultancy committed to providing value innovation in legal service delivery. The legal services industry is continuing to change with 'NewLaw'​ – and clients are seeking more innovative and cost-effective solutions without compromise on experience and quality