This month, we speak to Shogo Osaka who is the Managing Director, Legal of FedEx Express, covering the North Pacific (NPAC) region consisted of Hong Kong / Macau, Japan, South Korea, Taiwan and Guam.
From the regional headquarters in Hong Kong, Shogo is heading the team of diverse legal professionals in Hong Kong, Tokyo, Osaka, Seoul and Taipei who support the business and organisation in the NPAC region. He is passionate about optimizing corporate inhouse legal services and processes by adopting Agile methodologies and new legal technologies. Shogo was recognized as In-House Lawyer of the Year at Asian Legal Business (ALB) Hong Kong Law Awards 2022 and his team won various awards including ALB's Hong Kong In-House Team of the Year and Innovative In-House Team of the Year 2022 as well as World Commerce and Contracting Innovation & Excellence Award for Outstanding Cooperation & Collaboration APAC 2021.
Prior to joining FedEx, Shogo worked for Freshfields in the Shanghai and Tokyo offices including secondment to Japan Bank for International Cooperation, a governmental financial institution.
Shogo is admitted to practice law in Japan and a graduate of the University of Tokyo with the Bachelor of Laws and Master in Laws degrees. Shogo also obtained the Executive Master of Business Administration degree from Quantic School of Business and Technology.
1. Hi Shogo, can you tell us a little about your role and journey into law? What excites you outside of work?
I am Managing Director of FedEx Express Legal department, leading 10+ professionals who cover North Pacific region such as Japan, Korea, Hong Kong and Taiwan. I started my legal career in private practice, worked in Tokyo and Shanghai, and switched to inhouse when I joined FedEx in 2015. Outside of work I am hooked on running since I attended the Hong Kong Marathon 10km race this February, the first-ever race in my life. Currently I keep running to take part in a half-marathon race in the coming winter.
2. As a GC, what are some of the challenges that keep you up at night? How are you addressing them?
The regulatory environment of business keeps so rapidly changing that I am exploring how best I may design the workflows and structure the team to free up my team's time from the repetitive or administrative works, and let the right person handle the right matters.
3. What do you think about the use of LegalTech, data analytics and process optimisation to improve your legal department's value?
In order to adapt to the dynamic business environment and timely offer our service to internal clients, we need to optimise the workflows to deliver more values to the business, e.g. adjust the workflows with policy change, automate them by LegalTech etc. I have been leading some legal operations initiatives across FedEx Asia Pacific, Middle East & Africa region and the most recent solution we developed is a legal chat bot which is programmed to answer many frequently asked questions.
4. What trends do you expect to see in the legal services industry in the next 5 years?
Generative AI would play a big role in our industry as we are seeing various news e.g. ChatGPT passed bar exams. All lawyers may need to learn how to properly leverage such technologies in the practice, like basic IT skills and technology ethics.
5. Where do you see NewLaw/ALSP fitting in the matrix of your legal department?
The flexible workforce solution such as secondment lawyers is helpful to fill the gap when I suffer the unexpected shortage of members or sudden surge of workload. The expertise in legal operations and LegalTech is also a great resource when we assess such needs and adopt the right solutions.
6. Your favourite tune? And why?
Mozart's Clarinet Concerto K.622. I started playing the clarinet in high school and love classical music. This work was in one of the first classical music CDs which I bought then. Never get tired of listening to that.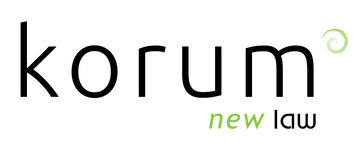 KorumLegal is a boutique legal consultancy committed to providing value innovation in legal service delivery. The legal services industry is continuing to change with 'NewLaw'​ – and clients are seeking more innovative and cost-effective solutions without compromise on experience and quality