1. Hi Sam! What's the story behind BRYTER?
BRYTER was founded in 2018 by Michael Grupp, Micha-Manuel Bues, and Michael Hübl, who saw the need for a powerful, but intuitive legal automation platform in their previous roles as lawyers and entrepreneurs. While most experts have some digital toolset at their disposal to digitize repetitive and tedious tasks, some of the most valuable and impactful professionals in company — the legal and compliance teams — are left out and still stuck with a vast amount of administrative work. BRYTER was introduced to solve that and help these subject matter experts re-focus on more valuable strategic work.
Since launching, BRYTER has seen widespread global adoption and is now helping companies like Telefónica, ING Banking Group, and McDonald's to digitize regulatory services in minutes instead of months. BRYTER has raised $90 million USD to date from top-tier funds like Accel, Tiger Global, Dawn Capital, and Notion.
2. What are the services/products that BRYTER provides?
BRYTER is the no-code development platform that enables legal departments to build applications, automate workflows and digitize contracting. BRYTER applications collect the relevant information, process it intelligently, and provide the answers, decisions, and documents business partners need. Our customers build solutions for almost anything — from legal intake to ESG data collection and reporting, on-demand virtual advisors, NDA generation, and more.
For teams with legal engineers, we offer the best platform for collaborative application development with subject matter experts, so teams can build powerful, useful, time-saving applications quickly and more cost-effectively than if they were to go through IT or contract developers. For teams that don't have legal engineers, BRYTER offers customizable out-of-the-box solutions and development support from our team of experts.
3. How does it help optimise the daily operations of a legal team?
In our recent survey of GCs, 82% said their legal team spends too much time on repetitive tasks rather than high-value strategic work. 69% of them identified managing workload as their current top concern. BRYTER exists to automate the repetitive, tedious, and frankly boring tasks so the legal team can re-focus on that high-value strategic work they went to law school for.
Beyond just giving teams their time back, BRYTER also helps them to operate faster — at the speed a modern business demands, make their legal advice available on-demand 24/7, and improve their engagement with the rest of the business, as well as their internal reputation.
For example, TD SYNNEX saved 95% of time previously spent on manual work, which they say has made space to cultivate more meaningful relationships with the business.
Another example is GEA, whose legal team used BRYTER to turn their most-requested services into self-service applications, including an NDA generator that shrunk total request time from one week to just 20 minutes.
While there are a lot of different point solutions on the market available to accelerate specific tasks, BRYTER connects the dots between various platforms to accelerate an entire workflow end-to-end, looping in experts only when needed. This level of comprehensiveness, combined with deep customization and full control over who is looped in and when, gives our customers confidence that they can operate more quickly and remove themselves from certain manual processes all while maintaining control and minimizing risk.
4. What do you believe will be the most significant change in how legal teams use technology in the next 10 years?
I think the next ten years of legal innovation will in some way be a response to the last ten years of struggle, where legal teams have lagged behind their colleagues in other departments when it comes to digitization. Other departments have been able to quickly get up and running with all sorts of exciting tech. Part of the reason legal hasn't enjoyed the same benefits of digitization as their colleagues is that legal work is bespoke work, it can be complicated, it's very high stakes and always evolving in response to changing regulations and shifting business priorities.
So in the next ten years, I think we'll see more legal teams embrace that complicated reality and invest time and budget into legal technology. We'll see greater adoption of tech overall, but we'll also see more legal engineering, empowering legal teams to drive their own digitization. I anticipate that one day, every legal team will have a legal engineer, their own embedded technical expert with an understanding of legal processes as well as technology.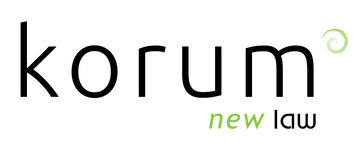 KorumLegal is a boutique legal consultancy committed to providing value innovation in legal service delivery. The legal services industry is continuing to change with 'NewLaw'​ – and clients are seeking more innovative and cost-effective solutions without compromise on experience and quality.