The key founders for Bilabl are Tam Le and Spencer White. Based in Vietnam, they are readily available to provide further details by conference call.
Tam is Product Lead and has fifteen years of experience in the software industry. During this time, he has helped to build dozens of digital products, ranging from mobile apps to universal solutions for multiple platforms. Prior to Bilabl, Tam was the General Manager for the Vietnam division of an edtech unicorn. Over the past decade, he has led the build out of products, recruited and trained teams and delivered substantial growth in revenues and clients. As Product Lead he is leading the entire spectrum of product development and is responsible for managing the talented team of specialist programmers.
Spencer's career of more than thirty years has spanned accountancy, portfolio management, research strategy, investment banking and consulting. His focus over the last decade has been the venture capital and private equity space, both as principal and advisor. His activities during this time have included strategic consulting, transaction advisory and capital raising. Within Bilabl his primary focus is business strategy and development.
In addition, Bilabl has several key advisors who have been instrumental in the architecting and functional design of the practice management system. For example, Mark Oakley, has over 20 years of experience practicing law. He was the founder and Managing Partner of ACSV Legal, a leading law firm in Vietnam. He also co-founded Domicile Corporate Services in Vietnam. Having sold both of these businesses to Acclime Corporate Services, a global corporate services group based in Hong Kong, he is now a partner in this firm. With his expert guidance Bilabl has been built to provide the ideal practice management platform to solve the real problems faced by any professional services firm.
At the initial start-up phase Bilabl has been domiciled in Vietnam together with the full development team, customer support and sales and marketing function. A Singapore holding company is being established to support the expansion around the rest of the region.
Let's jump right in!
1. Tell us the story behind Bilabl 
The founders and advisors bring together a unique blend of industry expertise and technological product building. This created the vision to use technology to develop the most sophisticated, analytics-centric, practice management tool available for modern law firms.
The founding team also recognised the increasing complexities and demands faced by legal practitioners in managing their practices efficiently within an increasingly complex universe of potential digital tools. As a result, Bilabl is in a unique position to both solve existing challenges and act as a growth catalyst for its users.
Geographically, Bilabl has a very regional bias. Understanding the unique challenges within ASEAN region, Bilabl has been designed to specifically address the intricacies within the regional legal landscape and provide a very tailored fit to local practitioners.
2. What are the services or products that Lexoo provides?
At the heart of Bilabl lies a complex suite of advanced business analytics tools built around customisable dashboards. These allow law firms to derive actionable insights from their data, team performance and client activities. This is done in real-time, with integrations to other software solutions (such as accounting) to further enrich the analytical capabilities of the system and put the most insightful levels of data at the fingertips of the users.
There are a number of unique functions embedded within the system that particularly resonate with the Bilabl community. These include a sophisticated conflict check function, detailed team performance metrics and very advanced cash collection analytics.
In addition, Bilabl offers tremendous flexibility, with customisation options to meet the specific workflow requirements of users. Relative to the broader industry offerings the pricing for Bilabl is also extremely competitive. It is neatly aligned with the economic affordability across the regions' markets while setting new standards of analytic functionality for the rapidly growing law firms operating throughout ASEAN.
3. How does the above optimise the daily operations of an in-house legal team/ law firm? 
In essence Bilabl creates a centralised platform that integrates critical aspects of legal practice management. This includes streamlining communication, automating routine administrative tasks, and providing powerful tools for document and case management.
The benefits of using Bilabl include:
Enhanced Efficiency: By automating tasks like time tracking, billing, and document management, legal professionals can focus more on delivering legal services and less on administrative burdens.
Improved Collaboration: The platform fosters collaboration and knowledge sharing within the team, ensuring everyone is on the same page and working towards common goals.
Data Accessibility and Security: Bilabl offers secure cloud storage and organised data repositories, allowing legal teams to access crucial information anytime, anywhere while ensuring data privacy and compliance.
4. What do you believe will be the most significant change in how in-house legal teams use technology in the next 10 years?
In the next decade, there will be a paradigm shift in legal technology towards even more sophisticated and specialised AI-driven solutions. Artificial intelligence will play a pivotal role in legal research, contract analysis, due diligence, and risk assessment. Moreover, there will also be a growing emphasis on data analytics to derive actionable insights from vast amounts of legal data, enabling informed decision-making and predictive modeling. Law firms that embrace and harness this will be more profitable, grow faster and exhibit a more efficient utilisation of resources.
Integration with other business systems and tools will also continue to be a key trend. Legal technology will seamlessly integrate with enterprise resource planning (ERP) systems, customer relationship management (CRM) platforms, and other business tools, offering a holistic view of operations and fostering cross-functional collaboration. Additionally, cybersecurity and data privacy will remain a paramount concern, driving the development of more robust security measures to protect sensitive legal information in an increasingly digital landscape.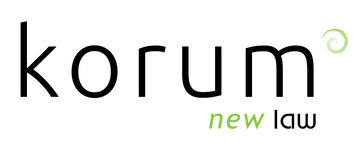 KorumLegal is a boutique legal consultancy committed to providing value innovation in legal service delivery. The legal services industry is continuing to change with 'NewLaw'​ – and clients are seeking more innovative and cost-effective solutions without compromise on experience and quality