Warwick Walsh is the CEO and Co-Founder at Lawcadia. After working as a corporate lawyer for 15 years Warwick left legal practice to found Lawcadia in October 2015. As a thriving Australian legal technology company, Lawcadia has a complete intake, matter, RFP, collaboration and spend management platform that is built for in-house lawyers.
Let's jump right in!
1. Hi Warwick, tell us the story behind Lawcadia.
As a former corporate lawyer, I have worked on diverse projects across different jurisdictions with law firms, including Blake Dawson Waldron (now Ashurst), Freshfields, Olswang (now CMS) and McCullough Robertson. I have always had an avid interest in business and entrepreneurship, and so in early 2015, I started actively exploring business ideas and approaches to innovation. Through this process, I identified numerous pain points experienced by in-house lawyers and law firms, such as a lack of transparency and structure in the way that lawyers were instructed and engaged, as well as challenges with communication and fee management. Legal departments were under immense pressure to cut costs and justify their legal spend, leading law firms to offer discounted fees to win work, only to exceed budgets significantly later on.
Recognising an opportunity to address these challenges, I had the idea for a legal tech solution that could simplify and streamline spend management for in-house counsel and their law firms. With my co-founder, Sacha Kirk, we established Lawcadia with a vision to create a more efficient and transparent legal market where performance, communication, and project management would be duly recognised and rewarded. Right from the beginning, Lawcadia was designed as a two-sided platform, providing a structured approach and defined processes for both in-house lawyers and law firms. This facilitated accurate instructions, scopes of work, change requests, and streamlined matter-based requests for proposals (RFPs).
As the legal landscape evolved, so did Lawcadia. In 2020, we launched Lawcadia Intelligence, an intelligent automation engine that permeates every aspect of the platform, offering enhanced efficiency and automation capabilities with ease. This significant advancement fuelled substantial growth and expansion as clients discovered various ways to leverage automation, integration, and reporting features.
Over the course of its seven-year journey, Lawcadia emerged as a game-changer in the legal tech space, earning recognition as an award-winning platform catering to the end-to-end operations of in-house legal teams. Notably, I take pride in the fact that Lawcadia serves both innovative law firms and high-profile corporate and Government legal teams, fostering benefits for all parties involved.
2. What are the services or products that Lawcadia provides?
Lawcadia is a comprehensive, two-sided, cloud-based platform catering to the needs of both in-house legal teams and law firms. Our platform facilitates various critical functions, including intake and triage, matter management, document management, automation, spend management, and customised reporting dashboards. The platform's streamlined workflows, budget control, accurate instructions, collaboration tools, and actionable insights benefit the entire extended legal function.
Moreover, the versatility of Lawcadia extends beyond traditional legal operations, providing solutions for diverse workflow challenges across legal, risk, and compliance areas. This includes functionalities for document execution, navigating delegation of authority, privacy assessments, data breach reporting, regulatory reporting, and freedom of information requests.
Unique to the global legal industry, Lawcadia's secure two-sided infrastructure, combined with the power of Lawcadia Intelligence, also empowers law firms to design and implement innovative solutions for their clients. Through this, law firms can win new work, seamlessly integrate their services into clients' processes, and introduce practical and sought-after innovation initiatives.
3. How does the above optimise the daily operations of an in-house legal team/ law firm?
Lawcadia's suite of solutions profoundly transforms the day-to-day operations of in-house legal teams and law firms, offering several pivotal advantages.
Firstly, our comprehensive matter management system organises and simplifies the oversight of legal issues. In-house legal teams can monitor matter progress in real-time, as the platform acts as a centralised, cloud-based repository for all matter files, ensuring no critical cases are overlooked.
Legal intake and triage functionalities enable requests to be efficiently reviewed, prioritised, and assigned to the most suitable team member, optimising resource allocation and response times.
Through robust document management capabilities, Lawcadia eliminates the need for cumbersome paper trails. Legal teams can securely create, share, store, and retrieve documents within the platform, facilitating a comprehensive approach to documentation and establishing a single source of truth.
The legal spend management function empowers in-house teams with greater control over budgeting, enabling them to establish agreed fee structures, scopes of work, and budgets upfront while effectively managing changes to scope and budget as necessary.
Lastly, the platform's actionable insights empower legal teams to continually assess and improve their performance, identify trends, and proactively address any potential issues.
4. What do you believe will be the most significant change in how in-house legal teams use technology in the next 10 years?
The legal technology market has evolved significantly since Lawcadia was founded in 2015, and the trajectory of transformation and adoption is accelerating. Looking ahead to the next decade, I firmly believe that the widespread adoption of workflow automation systems, artificial intelligence (AI) and machine learning technologies will revolutionise how legal teams operate on a day-to-day basis.
These technologies will play an increasingly integral role in the daily operations of in-house legal teams in providing flexible, secure, and efficient solutions to manage workloads, collaborate effectively, and monitor legal spend. This technological evolution will undoubtedly reshape the legal landscape, making it more efficient, agile, and innovative.
Notably, I don't believe that technology will replace lawyers but will enhance and support the ways in which they work.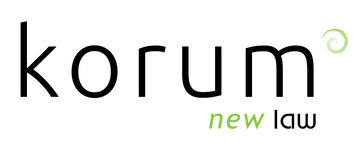 KorumLegal is a boutique legal consultancy committed to providing value innovation in legal service delivery. The legal services industry is continuing to change with 'NewLaw'​ – and clients are seeking more innovative and cost-effective solutions without compromise on experience and quality