City & State New York has named Glen G. McGorty to its 2023 Law Power 100 List. The list recognizes New York lawyers who are "the most influential legal professionals in the world of New York politics and government." This is the fourth consecutive year McGorty has been named to the list.
McGorty, managing partner of Crowell's New York office, is a member of the firm's White Collar & Regulatory Enforcement Group and the Financial Services Practice. He is an experienced trial lawyer who served almost 15 years as a federal prosecutor in the U.S. Attorney's Office for the Southern District of New York and the U.S. Department of Justice in Washington, D.C. McGorty has also served as a court-appointed federal monitor. He has been the Independent Monitor of the New York City District Council of Carpenters and related Taft-Hartley benefit funds for nearly a decade. In 2021, he served as part of the monitor team for the United Autoworkers of America, overseeing the union's historic referendum election and their first ever union-wide national mail-in ballot officer election.
McGorty represents corporate entities and individuals in federal and state criminal and regulatory matters, and in investigations conducted by grand juries, congressional committees, independent and special counsel, and international, federal, and state law enforcement and regulatory agencies. The publication highlighted McGorty's experience, "litigating cases brought against clients in official investigations from the local to the international level."
To see the complete 2023 City & State New York Law Power 100 list, please visit here.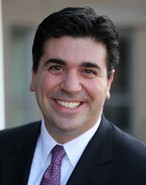 About Crowell & Moring LLP
Crowell & Moring LLP is an international law firm with offices in the United States, Europe, MENA, and Asia. Drawing on significant government, business, industry and legal experience, the firm helps clients capitalize on opportunities and provides creative solutions to complex litigation and arbitration, regulatory and policy, and corporate and transactional issues. The firm is consistently recognized for its commitment to pro bono service and its programs and initiatives to advance diversity, equity and inclusion.