The Home Minister, Datuk Seri Hamzah Zainudin announced the launch of the "Premium Visa Programme" on 1 September 2022. The programme, also referred to as the "Residency Through Investment Programme", aims to attract affluent investorsfrom all countries except for Israel that does not have any diplomatic ties with Malaysia to boost foreign investment in the country. The PVIP is anticipated to be available to applicants commencing from 1 October 20221 ; however, whether this will materialise remains to be seen.
Similar to the Malaysia My Second Home ("MM2H"), the number of applicants is capped at 1% of the total number of Malaysians. This is estimated to be in the region of approximately 300,000 applicants. Unlike the MM2H programme, the PVIP offers the benefits of not only the right to reside in Malaysia on a long-term basis but also extends the right to study, employment and investment subject to the fulfilment of specific conditions.
The comparative table below reflects the current schemes in place and qualifying criteria. Fulfilment of the prescribed criteria does not mean automatic approval as this remains discretionary.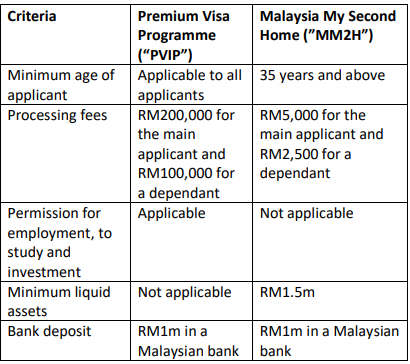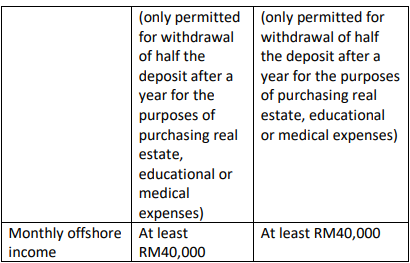 For further information, please contact:
Suganthi Singam, Partner, Shearn Delamore & Co.
suganthi@shearndelamore.com