26 August, 2015
With cyberattacks on the rise, accounting for millions of dollars lost by businesses every year, securing your company's online assets is not only important, it's essential.
CSC® Digital Brand Services specializes in protecting your online assets from DNS spoofing, DDoS attacks, phishing, and more. Our chief information security officer, Scott Plichta, shares four simple, cost-effective security actions every corporation should take with their digital strategy. Read the interview with Scott in The 3 most detrimental cyberattacks and how to stop them.

Download the resource here.
For the Chinese version, please click here.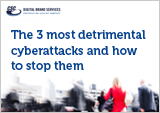 For further information, please contact:

Henry Chan, Corporation Service Company® (CSC®)
henry.chan@cscglobal.com

Ruby Pang, Corporation Service Company® (CSC®)
ruby.pang@cscglobal.com