We have garnered widespread recognition for our invaluable legal counsel provided to China Civil Engineering Construction Corporation (CCECC) during the execution of diverse construction projects in Kazakhstan.
The partnership between Unicase and CCECC has proved instrumental in successfully navigating legal complexities and ensuring compliance throughout several significant ventures, including the Almaty Railway Project, Almaty 300-Bed Hospital Project, Reconstruction of Irrigation Canals and Drainage Systems in Zhambyl District of Zhambyl Region, wolfram mining project in the Almaty region, and various energy and renewables initiatives, collectively exceeding a total value of USD 100 million.
The recommendation letter received by Unicase from CCECC serves as a testament to the law firm's exceptional expertise and unwavering commitment to delivering exemplary legal solutions in the dynamic Kazakhstani market. The letter highlights the firm's pivotal role in addressing complex legal challenges and providing invaluable advice to ensure the successful implementation of each project.
Unicase Exemplifies Professionalism and Timely Legal Advice, says Mr Fang Lianjun:
"…The advice provided by the UNICASE LLP team, including Saniya Perzadayeva, international advisors Ivan Bimbilovski, Sevil Gassnova and Nurlan Aitakhan, Kazakhstan lawyers Raushana Chaltabayeva, Nurlan Kubenov, Sanzhar Amangeldy and Ayana Unerbayeva provided in a timely manner and at the proper professional level expected of employees of an experienced and competent practicing law firm."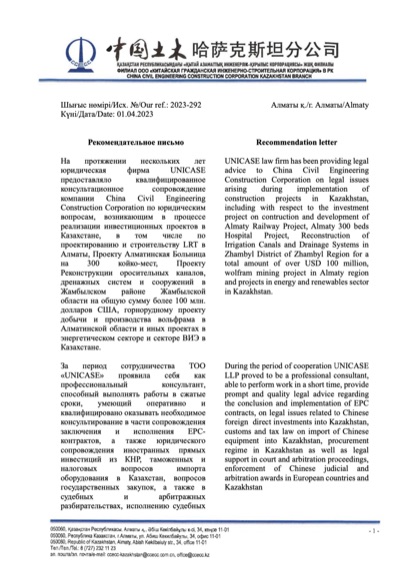 We would like to extend our sincere gratitude to Mr Fang Lianjun for the kind recommendation and for acknowledging the exceptional services provided by our team. Your trust in us and your recognition of our professionalism and expertise mean a great deal to our entire team.
At Unicase, we strive to exceed our clients' expectations and deliver tailored legal solutions that drive success. Mr Fang Lianjun's testimonial serves as a testament to our unwavering commitment to providing timely and top-quality legal advice. We are honoured to have been part of your projects and to have played a role in their successful implementation.