Jennifer is a law graduate of the University of Warwick, a Hong Kong qualified lawyer since January 2015. She is a team player with a positive work attitude, who is approachable, solution-oriented and a good communicator. She has extensive experience in a broad range of corporate and commercial law, Hong Kong stock exchange regulatory compliance, initial public offering, mergers and acquisition, company secretarial work.
1. Hi Jennifer! Can you tell us a little about the work you are currently doing / have been doing?
In 2021, through KorumLegal, I joined reputable companies to work as part of their in-house legal teams. I was able to gain beneficial in-house lawyer skills, such as understanding business acumen, communication across departments, pinpointing commercial needs and addressing potential legal risks.
I focus on contractual negotiations, reviewing and drafting internal guidelines and policies, and any ad hoc matters.
2. What made you take the leap into working in NewLaw for ALSP's? And why is it a good fit for you?
I was initially attracted to the idea of being able to leverage the opportunities under the NewLaw consultancy model to experience various industries as an in-house lawyer including banking/ fintech, funds/ corporate services, and aviation. Given that I am an individual who values enrichening exposures, it's been a good fit for me.
By now, as a seasoned ALSP lawyer with KorumLegal, I have been mentioned by various in-house legal teams for being able to blend in well with the team very quickly, easy to work with, helpful, respectful and dependable, and such positive feedback grants me the belief to be a good fit as well.
All along, it has been generally good to be submerged into company cultures which advocates so much for well-being and self-development. I have been inspired to get much more active outside of work. I signed up for dinghy sailing courses to begin with, and over time, I developed a genuine interest in sailing and have become a regular crew in sail racing. Sail racing has allowed me to embrace challenges, to live in the moment, push through my own physical and mental limits, and to discover my own inner strengths. In 2022, I also took the opportunity to unravel my curiosity in fintech and completed the Oxford Fintech Course, which enabled me to discover the world of ever-evolving laws and regulations relating to payment platforms.
Finally, the NewLaw consultancy model enabled me flexibility to give back to our society through participating in community services. In between work commitments, I enjoyed helping charities to prepare meal boxes for those who are less fortunate within our community. With full-time work commitments, I devote time on the weekends for a community service to help teach English to primary and secondary school students through story reading, drama role plays and fun activities.
3. What's the most rewarding assignment you've ever had and why?
I generally enjoyed all my work – most of my roles have benefited from my skills and experiences. At times, some tasks would be new to me and would require my initiative and intellectual curiosity to learn more about a topic or a new area of law which can be elevating and fulfilling.
4. As an experienced NewLaw/ ALSP consultant, where do you see NewLaw/ ALSP fitting into the matrix of the legal sector and how have you seen it evolve?
NewLaw / ALSP brings to the table – value – for its customers. From my experience as a KorumLegal consultant, I think the NewLaw/ ALSP industry has by now been established to be an excellent and solid alternative option for customers when considering legal solutions and services. The reliability, versatility, and flexibility of NewLaw / ALSP means it is a complimentary fit within the matrix of the legal sector.
5. What trends do you expect to see in the legal services industry in the next 5 years?
Technological innovations will continue to bring meaningful impacts to the legal services industry, and it is anticipated that the adoption and implementation of these innovations will supplement and assist legal teams on their day-to-day tasks such as contract management.
6. Your favourite tune? And why?
My all time favourite is the disney song 'A Whole New World' in Aladdin.  It's a classic and – as much as it's a song about romance where the duo takes on a magic carpet ride – it reminds us to always broaden our horizons and to stay curious in life.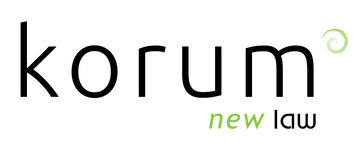 KorumLegal is a boutique legal consultancy committed to providing value innovation in legal service delivery. The legal services industry is continuing to change with 'NewLaw'​ – and clients are seeking more innovative and cost-effective solutions without compromise on experience and quality