Sam is a senior corporate advisory and technology lawyer with experience gained from leading private practice and in-house environments. He has a breadth of expertise, transferable legal skills and brings a multi-disciplinary approach to legal and advisory work.
1. Hi Sam! Can you tell us a little about the work you are currently doing/ been doing?
I recently advised a multi-currency payment app/platform who provide a digital solution for global access to all digital (including crypto) and fiat spending, borrowing, lending and wallet services. This company has operations worldwide and we assisted them to access, enter and trade in new markets – advising on a range of business-critical areas including contractual advisory, regulatory and compliance.
In parallel, I've been advising one of the largest digital behavior aggregators (a pure AI company) to establish a trading joint venture (JV) with a listed company that transforms the world of clinical medicine with IT. The JV has been established in Japan and to date, we've been involved in the negotiation and documentation of all elements of the JV.
I also recently assisted a technology company that is revolutionising the climate market – they build tech to help companies achieve their ESG goals. Among other things, I advised on how best to create an embedded "digital and enforceable" contract in a decentralised application that facilitates the creation and transfer of digital environmental financial products for trading purposes (as well advising them on intellectual property registration and protection strategies throughout SE Asia).
2. What made you take the leap into working in NewLaw for ALSP's? And why is it a good fit for you?
I initially viewed NewLaw consultancy as a way to "try before you buy" by joining, more often than not, established legal teams or holding an interim greenfield position as GC or Head of Legal Counsel for an early stage or growth company. Either way, it was dynamic.
The consistent theme of this model is and remains the new way of working – you get to quickly understand the operating model of a client's business, the technologies that power it, and key people who enable it. And you can do so, given your experience, in a curious way. Once you have that intimate understanding of someone's business, you can leverage your relationship and provide clients tangible value under the NewLaw model.
3.  What's the most rewarding assignment you've ever had and why?
A difficult one to answer. There's been many. Perhaps acting as lead counsel (with a team of legal consultants) on a successful IPO and book-build. Specifically, I advised on the roll-up and aggregation of a significant number of insurance brokerages and underwriting firms in Australia in anticipation of the group's listing on the ASX. This also included pre-IPO corporate and financial restructuring and related corporate advisory work in connection with a series of inter-related transactions culminating in the successful IPO. This sort of assignment was particularly rewarding as it offered a unique multi-disciplinary environment.
4. As an experienced NewLaw/ ALSP consultant, where do you see NewLaw/ ALSP fitting into the matrix of the legal sector and how have you seen it evolve?
It's certainly arrived and found its place in the legal hierarchy, don't you think?! That's because NewLaw offers a range of unique opportunities to partner with interesting clients at times when you're needed. You can help in-house teams or clients navigate change and participate in transformation transactions whilst advising with a clear purpose and sense of independence. It has been compelling for me – especially the diversity of work across a range of new and growth industry sectors. This environment also provides an opportunity to upskill – particularly if you're advising growth companies in the tech space. For example, by combining "traditional formulas" in financial services or corporate law with new thinking to niche areas in fintech, crypto or working more broadly on digital economy and transformation transactions. These are great opportunities to get involved in.
NewLaw has rapidly evolved over the past decade but continues to deliver a neat and exciting blend of part and full time flexible work assignments or major project work, which is the kind of mix I look for. It's also self-directed, of course.
5. What trends do you expect to see in the legal services industry in the next 5 years? 
I was recently asked this in the context of possessing a super power. X-ray vision springs to mind as we seek to look above, beyond and into the future of NewLaw. A vision of this strength gives us a better chance to deliver strategic outcomes and design new and innovative ways of working. The core elements that underpin NewLaw will, I think, remain constant: talent, innovation, technology, transparency and flexibility. Broader adoption of new technologies suitable for industry obviously has everybody talking right now (GPT/AI, for example), but the key trends for me include:
CX. Like anything, if you execute well, the customer or client experience that NewLaw brings to the equation is compelling. That is, the ability to deploy new delivery models with a tech-powered approach to solve complex problems and meet and exceed customer expectations. And this provides clients with real value. Korum is in a sweet spot with its clever product and client solution mix – think Korum's MLS product suite, for example.
Multi-disciplinary. A blend of unique skill sets will often be a differentiator for a lawyer or legal services firm. That is, the ability to apply more than a strict legal lens to a complex problem. Talent that possesses those skills matched with clever and flexible client solution propositions will thrive, I think.
Ways of working. This will be a key driver going forward – most industry leaders are on board with this already. That is because new ways of working empowers people in upskilling, flexible working and pursuing their passions. It's the right equation I reckon. And NewLaw delivers this in spades.
6. Your favourite tune? And why? 
For tune of the moment, I'd have to say, it's a toss up between "Feel Good [feat. Khurangbia] and Nervous Tics [feat. Holly Walker] by Maribou State: they both get me over the line whether running, cycling or touring.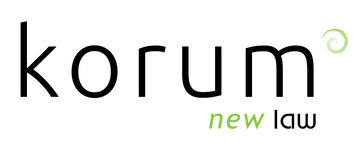 KorumLegal is a boutique legal consultancy committed to providing value innovation in legal service delivery. The legal services industry is continuing to change with 'NewLaw'​ – and clients are seeking more innovative and cost-effective solutions without compromise on experience and quality