A new law has been enacted regarding the French digital assets service provider regime.
What is the background?
Since 2019, an actor may be considered a Digital Asset Service Provider (DASP) if it provides at least one of the services listed in Article L. 54-10-2 of the Monetary and Financial Code. Depending on the services provided, the DASP may be required to register with the French competent authority (l'Autorité des Marchés Financiers) or elect to apply for a license.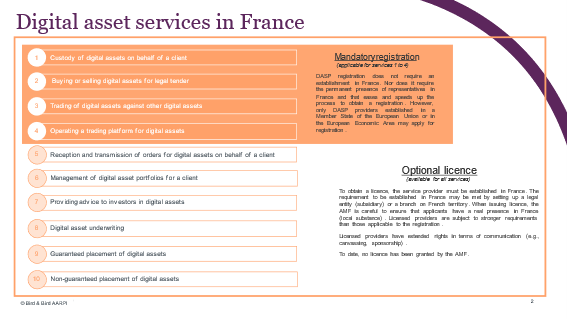 What is new?
With the new law No 2023-171 of 9 March 2023, further requirements will apply for the mandatory registration.
When will it apply?
The current registration regime remains applicable to entities that file an application for registration considered complete by the Autorité des marchés financiers before 1 July 2023.
What are the implications with MiCA?
Regarding the articulation with MiCA, providers registered before the entry into application of MiCA (the date is not known yet) will be able to continue providing services under their French registration during the transitional period (up to 18 months from the entry into application of MiCA). Although uncertain, it is also expected that the competent authority will elect to apply a simplified procedure to MiCA authorisation applications submitted by entities which, at the time of the entry into force of MiCA, were authorized under French law to provide services on digital assets.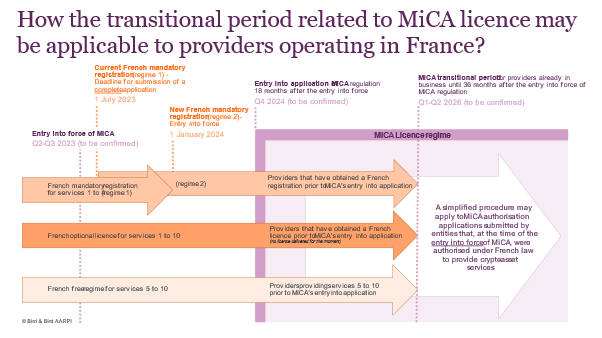 We are here to help, so please do get in touch with the team if you have any questions.


For further information, please contact:
Cathie-Rosalie Joly, Partner, Bird & Bird
cathie-rosalie.joly@twobirds.com