On 17 December 2021, the Hong Kong Monetary Authority (HKMA) issued a circular to remind authorised institutions (AIs) of timely preparation for their participation in the Credit Reference Platform (CRP) which is scheduled for launch by the end of 2022.
The Hong Kong Association of Banks, the Hong Kong Association of Restricted Licence Banks and Deposit-Taking Companies and the Hong Kong S.A.R. Licensed Money Lenders Association Ltd. (collectively, Industry Associations) have been working together on the initiative of introducing more than one credit reference agency for consumer credit data in Hong Kong, in order to ensure a smooth launch of the CRP as scheduled. The HKMA's reminder was for AIs to take timely action to prepare for their participation in the CRP. In particular, AIs were reminded to follow the advice of the Industry Associations issued from time to time and work closely with Hong Kong Interbank Clearing Limited, the CRP Platform Operator, to achieve the key milestones in the coming months in the run-up to the target launch date of the CRP.
For more information, please see link.
Authored by: Simon Deane and Sally Lau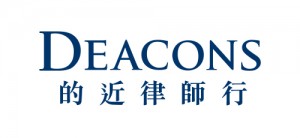 For further information, please contact:
Simon Deane, Partner, Deacons
simon.deane@deacons.com