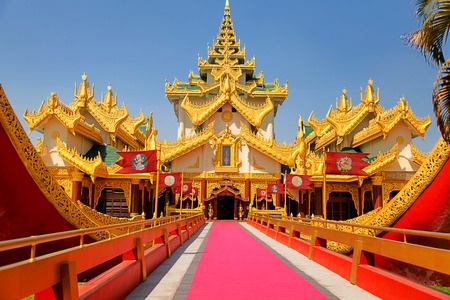 3 February 2021
Political developments in Myanmar this week raise the prospect of the possible reintroduction of sanctions against the country. International businesses with operations or investments in Myanmar should be aware of the potential for sanctions or other measures to be implemented at short notice and consider how their business may be impacted and the steps that may be required to ensure compliance.

Over the last two decades, we have advised many US, Asian, European and other multinational clients on their engagement in Myanmar through various phases of sanctions implementation and, from 2010 onwards, liberalisation of the Myanmar market with respect to international investment.

We continue to monitor developments closely and are ready to assist clients with any Myanmar-related questions or issues that may arise.
The current situation in Myanmar is evolving rapidly and foreign governments will be watching closely before deciding on an appropriate diplomatic and/or economic response.

According to press reports, the Myanmar military has arrested several prominent civilian political figures, including State Counsellor and leader of the National League for Democracy (NLD) Aung San Suu Kyi. In a televised address on Monday 1 February, military leaders declared a state of emergency and announced the immediate imposition of military rule.

This significant development follows several weeks of political turbulence following national elections in November, in which the military-backed Union Solidarity and Development Party (USDP) performed poorly.

A statement issued by White House Spokesperson, Jen Psaki, on Sunday 31 January, states that the US is "alarmed by reports that the Burmese military has taken steps to undermine the country's democratic transition" and that it "opposes any attempt to alter the outcome of recent elections or impede Myanmar's democratic transition, and will take action against those responsible if these steps are not reversed."

These developments represent an early foreign policy test for the new administration of President Joseph R. Biden. While the initial response from the White House does not provide any detail on the specific types of action the US may take in response to the current situation, a look at previous measures implemented (and subsequently eased) by previous US governments may provide some insight into possible action that may be taken.
A timeline of US sanctions against Myanmar
Between 1997 and 2007, successive US administrations imposed increasingly stringent sanctions on Myanmar in response to the evolving political and human rights situation there.

In 1997, the US government under President Bill Clinton moved to prohibit all new investment in Myanmar by US businesses and individuals in response to what then US Secretary of State, Madeleine Albright, described as "an utter lack of political freedom" in the country, and "a deepening pattern of severe repression by the State Law and Order Restoration Council", the governing regime established following a military coup in 1988.

Sanctions against Myanmar continued to expand under the administration of President George W. Bush, most notably through the Burma Freedom and Democracy Act (BFDA) and the Tom Lantos Block Burmese Junta's Anti-Democratic Efforts Act of 2008 (JADE Act).

Enacted in 2003, BFDA constituted a broad ban on US imports from Myanmar (with a waiver for products deemed to be in the US national interest), created new powers to freeze assets of financial institutions and named individuals, and extended visa restrictions against Myanmar officials. BFDA also included a partial ban on the provision of financial services to Myanmar, and required the US government to veto the provision of aid to Myanmar by international financial institutions, such as the World Bank and IMF.

In 2007, the US Office of Foreign Assets Control (OFAC) further tightened measures against Myanmar by adding an additional 25 individuals to its Specially Designated Nationals List (SDN List).

The JADE Act, enacted in 2008, while primarily concerned with banning the importation of jadeite and rubies from Myanmar, also contained a number of other provisions, including clarification of asset freezing and other prohibitions against SDNs and Blocked Persons, as well as a requirement that the US Department of State provide regular reports to Congress on countries that provide arms and intelligence support to Myanmar.

In 2010, NLD leader Aung San Suu Kyi was released from house arrest and Myanmar elected a quasi-democratic government, though notably the NLD boycotted the 2010 elections, enabling the military-backed USDP to win a strong majority in the Assembly of the Union.

These events marked the beginning of a thawing in US-Myanmar relations, which led to the restoration of diplomatic relations and the exchange of ambassadors between the two countries in 2011, and the initial "targeted easing" of certain sanctions in 2012. An Executive Order issued by President Barack Obama on 11 July 2012 (EO 13619) ordered OFAC to create two licenses authorising, subject to certain limitations and requirements, the exportation of financial services (General License No.16) and new investment in Myanmar (General License No.17).

On 6 August 2013, President Obama issued a further Executive Order (EO 13651) which rescinded the broad import ban implemented by BFDA, while upholding certain other sanctions originally implemented by BFDA and the Jade Act, including asset freezes against the extensive SDN List.

Further elections in Myanmar in 2015 saw a decisive victory for the NLD and the effective restoration of democratic government in the country. This led to further easing of US sanctions, culminating in Executive Order 13742 "Termination of Emergency with Respect to the Actions and Policies of the Government of Burma", issued on 7 October 2016 (EO 13742).

While EO 13742 represents a substantive lifting of US economic sanctions against Myanmar, certain measures do remain in place, including visa restrictions against certain Myanmar nationals, and restrictions on US relations with Myanmar's military.
EU, UK and ASEAN relations with Myanmar
While the EU has also introduced restrictive measures in respect of Myanmar, it has generally been slower to do so and its sanctions have been less extensive when compared to those implemented by the US. EU sanctions have focused on restricting access to certain industries (in contrast to the broader import and investment ban imposed by the US) and an embargo on arms and other equipment which might be used for internal suppression by the military, with the effect that certain European companies have been able to continue to interact with Myanmar to some degree.

EU sanctions against Myanmar were suspended in May 2012 by EU Council Regulation No. 409/2012. This regulation lifted most of the restrictive measures imposed against Myanmar, with the exception of the arms embargo.

The EU measures that remain in place with respect to Myanmar were effectively adopted by the UK upon its exit from the EU on 31 December 2020, through The Burma (Sanctions) (EU Exit) Regulations 2019. While this means that UK legislation with respect to Myanmar currently has substantively the same effect as the relevant EU legislation, post-Brexit the UK may amend its own sanctions regime independently of the EU (including, for example, maintaining its own list of designated individuals under the Sanctions and Anti-Money Laundering Act 2018).

In contrast to the US and EU, Asian countries have typically eschewed sanctions against Myanmar in favour of positive engagement, even prior to the restoration of quasi-democratic rule in 2010. In 1997, Myanmar was admitted to the Association of South East Asian Nations (ASEAN), despite strong political opposition from the US and various European countries. Following the 2010 elections, ASEAN member states were vocal in calling for the lifting of sanctions against Myanmar.
For further information, please contact:
Jeremy Birch, Herbert Smith Freehills
jeremy.birch@hsf.com